There are many ways out there to better your odds of getting the lowest rate for your flight. I've suggested 12 of these in this blog post. One that I mentioned was to book your flight with a carrier or search engine which guarantees its rates in order to get compensated if the price drops.
I do realize that this is, in most cases, more easily said than done. If it were so simple everybody would do it. There aren't too many people out there willing to spend their day glued to their computer looking at their fare just to make sure it hasn't dropped. Luckily, there are some websites available out there that will help you do this almost effortlessly.
Get Notified Automatically When Your Purchased Flight Gets Reduced in Price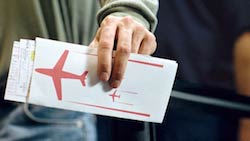 While most airfare tracking services update the user prior to the purchase of a ticket (which is already quite practical), there is one that goes even further by notifying you if the price of your flight goes down between the moment of purchasing it and your actual departure. It is called Yapta.com.

How Does it Work?
Start by heading to Yapta.com, create your account and enter your flight details. If ever the price of your airline ticket drops under what you have paid, you will get an alert from Yapta. It's as simple as that. The only catch is that not all airlines offer refunds or credits. Ones that do and operate in Canada are the following: Virgin, American Airlines, Delta, US Airways and United. Hopefully, more and more will start doing it.

Tracking airfares before and after the purchase is a great to save money on trips. It helps you get a better notion of how good a deal really is and makes sure that if you weren't patient enough you still have an opportunity to redeem yourself.

How about you? Do you have any tips on how to save on airfare?
Another alternative consists in opting for other sites, such as Orbitz.com of FlightNetwork.com that also offer a similar service. The only difference being that these sites take care of giving you the credit for any price drop. These don't even require you to track your flight and they will automatically add it to your account without you having to do anything about it.