Sometimes we get wrapped up in buying the perfect gift and it becomes easy to forget that Christmas is about creating special moments. Think back to childhood – our cherished holiday memories are typically more about baking cookies or laughing at a crazy uncle than a toy we got that one year.
Such moments are best when they happen organically, but you can create a holiday environment that is more conducive to their arrival. Here we've compiled some unique and frugal ways to create lasting Christmas memories.
The Power Of Ritual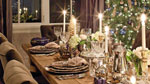 There's nothing like a family tradition or ritual to create both strong memories and a sense of anticipation for the coming holiday season. A friend has a beautiful tradition that consists in her all her family members (including her, of course) gathering around a table, and each getting a candle. One by one, each lights his or her candle, expressing gratitude for things that have happened during the year as well as hopes for the year to come. The candle is then placed in the middle of the table, and it's the next person's turn. Isn't that a great idea?
By the end, many personal feelings have been shared with loved ones, and there's a group of burning candles in the middle to represent them all.
Back To The Roots
As a family grows, so does its range of ethnic diversity and roots. For Christmas dinner, ask family members to bring food that reflects their heritage. This will create a stronger sense of shared history, not to mention reducing financial and emotional stress on the host. In case the dinner table becomes too full with the various foods, unique traditions from every guest's background can also be shared and celebrated.
Did you know what in Japan, a new "holiday tradition" is to get a KFC meal? Apparently the popularity of fried chicken during the holidays is so high, that people need to reserve orders up to to months in advance because according to spokesman Sumeo Yokokawa, "In Japan, Christmas equals KFC".
You can also do this with unique ethnic rituals or celebrations if the dinner table gets too full.
Playing Board Games
Another fun and frugal activity is to play board games with your friends and family. Sure, you will need to spend a little bit of cash to obtain the game(s) that you want, but when you consider how long these last and the quantity of time you can spend enjoying these, the cost becomes less and less considerable. Plus, these days there is a game for everyone, including ones with a twisted sense of humour, like Cards Against Humanity, as well as people with loads of spare time on their hands like the timeless classic Risk.
Making A Video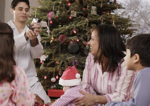 Many families have video cameras, or even just a computer webcam. Gather everyone around and make a video, with each person taking a turn talking about what's going on in his or her life. This can be sent to loved ones who are far away during the holidays, and it'll create lasting Christmas memories for years to come. Imagine pulling one of these videos out to watch 10 years from now!
In case you don't have a video camera or even a webcam, be sure to check out our category of electronics stores for coupons and sales to save money on this must-have accessory to record all of your most precious memories.
Outdoor Activities
From a simple walk to an impromptu hockey game in the street or at the local park, the possibilities for cheap outdoor activities are endless. Sure, you may need to layer-up depending on what part of the country you live in, but playing outside is a great way to create timeless memories while having a good time with your close ones. Other great options consist in making a Santa inspired snowman or making cute snow angels.
Creating Tree Ornaments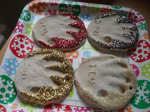 Get in the holiday spirit by making simple ornaments with basic, cheap materials. Whether it's with family, friends, or both, this is a wonderful way to commemorate the season. Handmade ornaments give a personal touch to holiday decorations, and will provide lasting memories when brought out in the years to come.
Here are some instructions for making salt dough ornaments which come out especially well with a kid's touch. Salt, dough, and water is all you'll need, so they're incredibly cheap as well.
Volunteering
Finally, joining together with friends and family to help others provides contextual meaning to the holiday season. There are so many families and organizations that could use the extra help, and sharing the experience of giving with loved ones is rewarding indeed.
It doesn't have to be so serious, either – there are plenty of charitable activities that are legitimately fun for everyone involved. Check out a few Christmas volunteering ideas to get the ideas rolling and inspire your choice this holiday season.
What traditions does your family have for the holidays?