Here's another deal for all you fragrance lovers out there. This time around it's from Victorinox–the house that has brought you a classic among North American men: the famous Swiss Army perfume–and it is good for a free sample of the new Swiss Unlimited fragrance for men.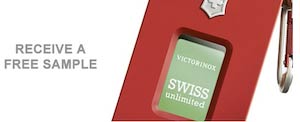 All you have to do in order to get yours is to click the link located above, which will take you to this deal. Once you're there, simply fill the short form with your name, address as well as your email and click on the submit button. A few seconds after you've done this, you will receive an email from Victorinox prompting you to confirm, make sure to do this and your free sample should be on the way.
It usually takes a couple of weeks to a month for this type of freebie to arrive—from my experience anyway. As a matter of fact I've just received my free Lacoste fragrance sample, which I had claimed at the start of July. You can still order a sample from this brand by the way. It only takes about a minute to do and is entirely free.