I mentioned in this post about saving on your grocery bills, that growing your own vegetables is one of the greatest ways to do it. Not only is it uber frugal but it can also be a quite a pleasant hobby.
But if while reading this post you were left scratching your head thinking: "This sounds great. But where do I start?", then this freebie is for you.
All you have to do in order to claim the free online version of this Vegetable Garden guide is to use the link located below to be taken to this promotion's website. There, you will need to answer a few questions. Once you've submitted your answers, check your email in-box, you should receive the document within a few minutes.
Claim your Free Vegetable Garden guide here
This free guide named Garden Fresh includes all sorts of practical information. From general tips on what makes a great garden, planning it, what to grow in it, garden building tips, to maintenance tips.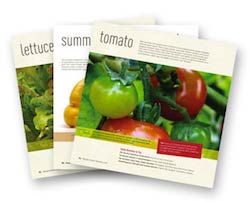 In other words, all sorts of valuable stuff for everyone from newbies to seasoned vets.
One of the best things about this guide is all the pages dedicated to each vegetable and how to grow them. These sections go pretty in-depth, offering recommendations on how to plant the vegetable of choice, the common problems related to growing each of them as well as when to harvest them.

Browse other Great Freebies for Canadians

Sign up to our Famous FREE Weekly Top 20 Promotional Codes Newsletter