There are a few things to keep in mind in order to save cash when shopping for food. The first one being that, ideally you want to make sure to spend the least amount of time in there. Since the longer you're in there, the more you are likely to add items to your basket and time is money after all. The second one to keep in mind is how much a certain product should cost on average. A savvy shopper understands – from experience and knowledge – a great deal.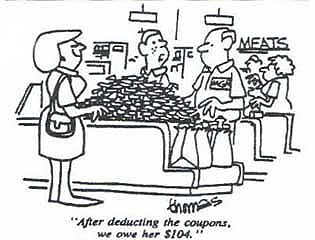 I know it's sometimes hard to keep a balance between eating properly and saving money. As one of our biggest expenses (with shelter and transportation) it can be tempting to either spend carelessly on groceries or to give up on eating properly and eat out all the time.
Now, I won't pretend that I apply all these rules myself, either for lack of time or lack of space –yes I'm talking to you tip #33–, but the following list of tips should help you save a lot of money on grocery bills without too much effort.
1. Using a shopping list and actually sticking to it is a great way to give a little bit of structure to the process. Helping you to avoid wasting time and also making impulsive purchases. There are loads of cool apps that can help you with this if you are having trouble. OurGroceries, Buy Me a Pie! and Out of Milk are some of the first ones that come to mind.
2. Not going when you're hungry is one of the most common tips, and there's a good reason for it. It's true. We've all been in that situation and know that the best way to stay away from that bag of chips is not to salivate when looking at it.
3. Going for items that are on sale is probably one of the most efficient ways to save money. It's pretty easy to do since there is almost always a deal on a certain types of products. For example, there is usually a brand of cheese or yogurt that will most likely be on sale when you go to the grocery store, and they pretty much all taste the same.
4. Having a look at a product's price per unit is one of the best ways to rapidly calculate the quality of a deal. Two comparable products may be sold for the same price, but there may be a slight difference in quantity.
5. Buying non-branded items or store brands makes a lot of sense since most of these products are made by the big brands themselves but are usually sold for lower prices.
6. Cutting-down on meat may be an unpopular one for a lot of us. But let's face it, meat is pretty expensive and isn't necessarily (red meat especially) the best choice for your health.
7. Staying away from pre-prepared foods and coincidentally preparing your own food is another great way to not only maintain a healthy financial situation but also a healthy diet. For example, stores tend to charge ridiculous amounts for marinated meats, which are often full of sugar and/or salt and/or preservative agents.
8. Buying in bulk, when it makes sense, is another great way to save money. Cereal and rice are good examples of food that you will always need and that gets cheaper in big quantities.
9. Splitting quantities and expenses with friends or relatives when buying in bulk can also save you a lot of money.
10. Preparing large portions of food and freezing them is a great way to not lose food, but to also to have quick meal options when in a hurry.
11. Using a large freezer If you have the space is a great way to keep your large quantities of food. Normal ones tend to get full quite rapidly.
12. Buying clearance-priced vegetables & fruits (which are usually past their prime) and saving them for special recipes, like a banana bread or a soup will save you up to 60% off the original price. Just make sure to double-check the expiry date.
13. Purchasing in-season fruits and vegetables will generally be cheaper than buying imported ones. As transportation costs are a lot smaller. Plus, it's better for the environment.
14. Clipping coupons and using them on already discounted items is an awesome way to score unbeatable discounts.
15. Planning meals ahead will reduce the number of trips to the corner store (which tend to charge more). I also find that planning meals ahead is a great way to try new meals. Looking at recipe books, or online, it's easy to get inspired.
16. Keeping a list on the fridge and updating it when you run out of a product to help avoid repeat trips to the supermarket and therefore the inevitable impulsive purchases.
17. Having an approximate budget simply makes sense if you want to keep track of your expenses.
18. Keeping a running tally aka a rough estimate of how much it's costing you so far, will help you stick to your budget. I personally use my regular shopping list and add every item's price once it's in the basket.
19. Keeping your receipts and checking right after leaving the grocery store for errors can save you money pretty often. Plus, by entering the amounts in a spreadsheet you will be able to better keep track of your monthly expenses.
20. Preparing lunches. Leftovers are awesome for this. If there aren't any, try to prepare your lunch the previous night or else the odds of you fixing yourself a decent sandwich in the morning are pretty slim and you just might end up at Tim Horton's instead.
21. Avoid going at peak times. This way you won't rush as much and make impulsive purchases. This is pretty much the equivalent of doing your grocery shopping on an empty stomach.
22. Stop letting food go to waste as much as possible. If you end up throwing away half of the food you buy there's a problem. Using a list and planning ahead should help with this.
23. Avoiding junk food and sweets is another great way to stop spending on empty calories. Plus, one of the best ways to stop eating these is not to have them easily accessible at home.
24. Staying away from processed foods you will avoid eating preservatives, hydrogenated oils, sodium, etc. which are all unhealthy for you. Plus, you usually pay more for the convenience.
25. Subscribing to a loyalty program like a store's savings card or simply being a loyal customer has its advantages like cash back policies.
26. Shopping at more than one grocery store if you have the time. Since no one store has the monopoly on low prices. So at least have a look at competitors' flyers . I know I just said that being a loyal customer is a great way to save money.
27. Drinking water is a bit of a boring one, I know, but the fact that it's free and good for you makes it a great go-to beverage. I'm not saying eliminate everything else, it's just that we drink all sorts of other stuff out of habit, when water could definitely do the job.
28. Cutting down on eating-out and ordering-in. While it's often tempting, chances are that you can fix yourself a better meal than the average restaurant can.
29. Asking for a rain check whenever there's an awesome deal that's sold out simply makes sense. Sure, it can take a few minutes to do, but if you consider that the rebate is good enough, go for it.
30. Avoid going with your kids is another pro tip. Although I can't speak from personal experience, It makes sense that if you're trying to get things done as fast as possible, and don't want unwanted items in your basket, you should go by yourself.
31. Ignoring items located at the checkout counter can sometimes be tough, but these are the incarnation of impulsive purchases.
32. Staying away from non-food items like toilet paper and hygiene products can also potentially save you money (although there are some exceptions) as these are almost always more expensive than at other stores (like at the pharmacy for example).
33. Setting up a vegetable garden and growing your own – if you have the space that is. This way, on top of saving money, you will also have a fun and relaxing hobby.
How about you? Do you have any tips to suggest? The 34th spot is all yours if you can come up with a tip for this list. Just leave a comment in the section located below or email us at contact '@' promotionalcode.ca.