YouTube has recently launched 53 paid channels, including Big Think Mentor, Acorn TV, National Geographic, Docurama and Sesame Street. This is a rather bold –but calculated– move for this video streaming service since until the inclusion of these channels, all content had been available for free.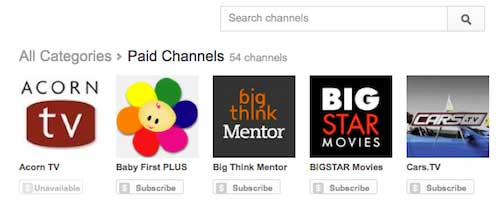 All available for 14-day trials, these 53 channels start at 99 cents a month and are said to be "just the beginning" to what many experts have speculated to be the precursor to following in Netflix's footsteps in the creation of entirely exclusive content à la House of Cards.
The assembling of an original YouTube production unit earlier this year gives some credibility to these rumours and should result in the arrival of exclusive (ad-free) series within the next few years.
The Bottom-Line
This transition from the classic cable model towards a more flexible web-based model has already begun and will most likely only gain momentum within the next couple of years. Why pay a big chunk of hard-earned cash for a cable plan that includes a bunch of channels that you don't even like when you could opt for a few less expensive channels and platforms that offer content that you actually want to watch?
Would you be willing to pay for YouTube channels? If yes, which ones would pick your fancy?.