For many people weight loss programs are a very hard thing to commit to. A recent conversation with a friend made me realize that one of the main reasons for this is that most people fear that they will have to stay away from their favourite foods forever. They wonder what they will they be able to actually eat if they decided to subscribe to a weight loss program. As I've personally subscribed to Weight Watchers Online and considering how popular this service is among our community I have decided to look further into this program and to give you the low down on what you can eat while on a Weight Watchers plan.
No Forbidden Foods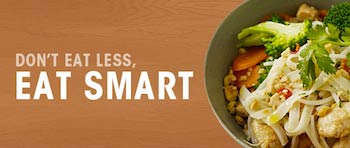 The first thing that impressed me when I subscribed to the PointsPlus program is that there are no forbidden foods. Of course, some choices have to be made, but the whole point of this program–and potentially one of the biggest reasons behind its success–is that it teaches followers how to make better choices and adopt a healthier lifestyle. Using PointsPlus values you will be able to simply assess how much you can eat of each food in a day or at each meal. So, it doesn't matter if you are a vegetarian, if you love to eat out or have some food restrictions you need to respect, following a Weight Watchers plan gives you the flexibility to not give up on your favourite foods but to simply manage your appetite better. Check out these recipes available at the Weight Watchers Online website to give you a better understanding of what you can eat while on a Weight Watchers plan.
In the end, the Weight Watchers objective is to help you lose weight and keep it off by performing a few lifestyle changes and providing you with helpful resources, to help you improve your food consumption management and adopt a better exercise routine. Some other companies offer really restrictive diet plans and force their clients to purchase their lines of prepared foods. In your opinion, what type of program has the best chances of helping you lose weight and succeed in keeping it off?
Have you ever tried following a Weight Watchers program? What did you think about it?