As a Canadian bargain hunting community, we feel that it is one of our foremost responsibilities to share some of our knowledge about the online world. This is why every now and then, we like to provide advice on things to look-out for while browsing the web for coupons and shed some light on its more negative aspects.
One of the latest scams to look-out for that caught our attention is predominantly referred to as the "Bait and Switch". This method basically centers around couponing websites asking users to provide personal information, such as their phone number or email address, in exchange for a coupon or a promo code.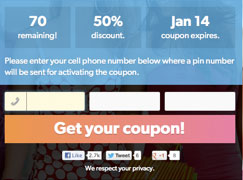 There are no situations where such a condition should be imposed as such collection of information poses no practical reasons. Not only won't users gain anything from revealing this type of information, they will also be annoyed by spam calls, text messages and/or emails.
Spamming websites will often claim that they need your personal information in order to be able to send the code. But again, there is no real need for this, especially when there are a bunch of trusted resources (like us) that will not ask for anything in exchange for the coupon.
How Can You Spot Fake Coupons?
1- If the deal seems to good to be true and no other website has an offer that is within the same ball-park, there's a good chance that it isn't real. For example, if all special offers for a merchant are around 20% off, the one that is for 75% off is most likely fake;
2- You should never have to pay for a coupon or have to give away personal information in exchange for one. In some instances, sites will prompt users to sign-up to their newsletter, but there should not be any obligation to do so;
3- Most legitimate websites will have their contact and business registration information available to users.
The Bottom-Line
The objective of this post is not to scare people from using online coupons. We firmly believe that these represent a great way to save money when shopping at your favourite merchant's online store and we want to make sure that you know what look-out for to avoid having a bad experience. The web is a great resource, but like with anything else there are certain drawbacks to watch out for.
Do you have some comments or advice to share with other readers? Please let us know by leaving a comment.