When it comes to establishing a good credit history, credit cards are one of the easiest ways to do so with the main reason being that as purchases are made and repaid promptly, it demonstrates reliability and trustworthiness. While many steer clear from charging their credit cards in fear of forgetting to pay it, there are in fact a number of purchases that should always be made with a credit card.
Depending on each card, major rewards can be accumulated via the form of points that can be redeemed for products, cash back on everyday purchases and the much popular: Air Miles. Below is a list of all the major purchases that should always be made with a credit card:
1. Electronics, Furniture & Appliances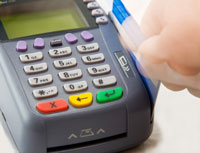 Never mind the fact that most people can't afford to pay for these in full, fact of the matter is that either way, it's much better to pay with a credit card because you are then entitled to protection in the event that the company closes before delivering the goods because the credit card issuer becomes equally as responsible for the items as the retailer, which also applies in the event that only a deposit is made.
In most cases, credit card issuers also offer the benefit of extending the warranty of the purchased items (sometimes even doubling it), which can definitely come in handy on laptops, furniture and major appliances.
2. Bookings & Vacations
Although a credit card is most often than not required to book any kind of trip (flight, hotel, car), which can all be booked online for cheaper with the many deals available, there are benefits of using one regardless. While travel-themed credit credit card offer the most rewards*, most credit card issuers may assist in booking cancellation, lost luggage retrieval, auto rental damage and even emergency medical support.
While it's undeniably safer to carry a credit card around instead of actual cash (especially American dollars if you're traveling overseas), better exchange rates are also offered by certain credit card companies, thus eliminating the hassle of having to look for an exchange bureau.
*Be sure to take a look at RewardsCanada's Top Travel Rewards Credits Cards for 2013.
3. Online Shopping

With online shopping on the rise, paying with a credit card is significantly better than using a debit card, gift card or any other form of payment. On top of offering security against fraudulent activity, most credit card companies also provide compensation in case the item arrives damaged or simply never makes its way to the shopper's home.
4. Automated Billing
In an effort to go a step further in building good credit card history lies the option of signing up for automated billing, paid through with a credit card. In addition to racking in the points are mentioned previously, certain credit card issuers also offer insurance in case of, let's say, a lost or damaged cell phone (notwithstanding water damage) only if the payment had always been performed.
In fact, certain discounts may even be acquired from merchants that have secured exclusive partnership and deals with credit card companies.
The Bottom-Line
While we have covered all of the purchases that should be made with a credit card, it is nevertheless important to use credit cards responsibly. Not to be confused with debt, they can in fact have numerous advantages but need to be repaid as soon as possible. Most importantly, credit cards should never be used for cash advances because of the high interest rate and the risk of falling into a cycle of non-repayment.
Remember: always make your payments on time and in full at the end of the month to establish good credit history.
What about you? Do you use your credit card for everything or do you prefer paying with cash regardless?