On the heels of the arrival of Target in the country, Nordstrom — another major player from the American retail business — is set to have a big impact over here.
More precisely, it has been announced that Nordstrom, the upscale clothing and accessories store, is arriving to Canada. The first locations on Canadian soil will be in Vancouver (Pacific Centre), Calgary (Chinook Centre) and Ottawa (Rideau Centre) — 3 top sites Sears Canada has recently let go of – I do my research.
Some consumers are really excited about these arrivals, but what can we really expect from Nordstrom's arrival? Are we, as the customer, going to end up with more money in our pockets?
How Will this affect the Canadian Retail Business?
Since Nordstrom is considered a 'luxury retailer' it is doubtful that the average consumer will actually end up with more money in their pockets thanks to the arrival of this store. What can be said though, is that Nordstrom's presence in Canada will probably put some extra pressure on stores such as The Bay, Holt Renfrew and Harry Rosen to offer more competitive prices.
The biggest difference will probably come from an online shopper's perspective, since making purchases at Nordstrom.com as a Canadian resident will potentially become more interesting. At the moment of writing this, there is a $9.99 flat shipping rate and customers have to take care of paying duties and taxes. These fees will most likely be waived as this retailer establishes itself in the country.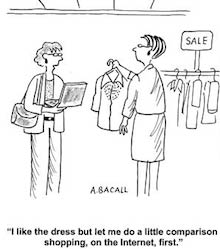 In the end, it's always fun to have more choice as a consumer. Plus, more competition should push all retailers to improve. We've already seen great examples of this online. As Sears.ca has recently been revamped to include a better selection as well as better prices. TheBay.com has also received a lot of attention as of late, thanks to its advantageous shipping policies and great selection. Nordstrom's arrival should retailers such as the aforementioned to offer even better deals.
For all these reasons, I think it is positive for the consumer. How about you? Are you excited about Nordstrom's arrival to Canada? Are you among the lucky ones who will have a location nearby?