Though the American version of Netflix receives a lot of praise, it seems that its Canadian counterpart had retained a bad reputation from when it first started. Find out here if the monthly subscription is worth it.

Close to 2 years ago, Marc-Andre wrote about the Netflix Canada Selection, outlining the benefits of the video streaming website. Since then, the Canadian version of Netflix has improved significantly and is now more than ever, a monthly $7.99 investment that is definitely worth it.
Easy Interface
One of Netflix's best features is its remarkably easy-to-use and clean interface. There are no ads anywhere on the website and best of all, no ads have to be watched while waiting for the movie or show to loads.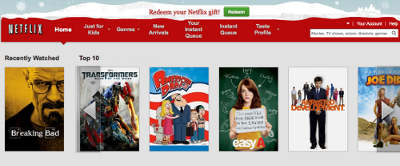 Weekly Added Titles
With great titles being added on a weekly basis, there's always at least something to watch. For instance, at the time of writing this article, the latest seasons of Bones, Glee, My Little Pony, 90210, How I Met Your Mother, and Doctor Who had been added. Likewise, This Means War, The Sitter, Seeking Justice, Paranormal Activity 3, Mission Impossible: Ghost Protocol, and the Expendables were new movie additions.
Profiles
Long gone are the days where the Netflix suggestions were getting mixed up by everyone who would use an account. Thanks to the introduction or profiles, each family member can create his own, for which recommendations will then be adjusted to the most recent movies or TV shows they have watched. To create a profile, simply use the "Add a new profile" button located right next to the existing one. You will then be asked to enter a name and choose an avatar. It's that simple, but keep in mind that there is a limit of five profiles per account.
Smartphone & Tablet App

For those on the go a lot and especially who spend a lot of time commuting to and back from work or school, Netflix is a fantastic time-killer. Allowing customers to watch movies and shows from a smartphone and tablet app, it's the ideal way to catch up on shows without any hassle whatsoever.
Post-Play
Personally, I'm a huge fan of Netflix's new feature called "Post-Play" that allows episodes to play back-to-back without forcing me to look for the remote or mouse. As soon as the credits begin rolling, the next episode in the series plays after 15 seconds. Of course, the timer can be stopped by either going back to the browser or by clicking on the next episode, as shown on the screenshot below.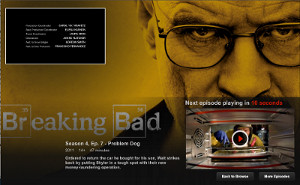 What's more is that ever since there were numerous complaints on the web about the large amount of bandwidth that Netflix would take up, especially if someone had a very restricted downloading limit, the video streaming website has integrated 3 video quality settings:
Good Quality (up to 0.3 GB per hour)
Better Quality (up to 0.7 GB per hour)
Best Quality (up to 1 GB per hour pr 2.3 GB per hour for HD).
Keep in mind that the good quality option is not to be underestimated as it's actually quite sharp.
The Verdict
With an easy interface, weekly added titles, back-to-back episodes, manageable video quality and the taste profiles, it's definitely worth it.
Get a 1 Month Netflix Canada Free Trial Here
Share with us your opinion on Netflix below. Have you ever tried it?