After the intensification of rumours, Apple has announced the release of two different iPhones. The first one being the iPhone 5S, their next flagship device, and the second being a more affordable version of the popular smartphone, dubbed the iPhone 5C.
As usual, the release of a new iPhone has created a certain amount of buzz, with the most credible information emerging is that this 5S model will be offered in a gold-coloured version –which has since been confirmed. But, what really got the rumour-mill going was the potential arrival of a more budget-friendly plastic case model.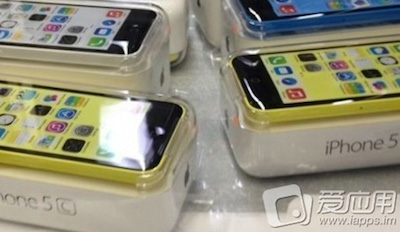 UPDATE: Turns out that qualifying the iPhone 5C as "affordable" is an over-statement and that according to many analysts, it potentially won't be accessible enough for the Chinese market. Priced at $99 US (for the 16 GB model) with a contract, it is cheaper than the standard iPhone, but in a market where $100 smartphones are quite common, Apple's device is still more expensive than other comparable devices. Plus, important subsidies such as the ones available in North America when opting for a contract are not common in China, meaning that customers need to pay full price for their phone at the moment of purchase. This means that Apple may be able to improve its 5% market share in the middle kingdom, but it probably won't be as much as some had analysts hoped.
However, the situation is entirely different in Japan where the pricing appears to be spot-on as customers are literally lining up to get their hands on the newest iPhone models.
This being said, these new smartphones have been well received by analysts in more traditional markets like Canada and the United States. Industry commentators such as Engadget and TechCrunch have respectively referred to the iPhone 5S as the "the best iPhone ever made" and "the best smartphone available". The main reasons behind these statements being the addition of an improved camera, a fingerprint sensor as well as a more powerful 64-bit A7 processor and a M7 motion-tracking chip. Whereas the iPhone 5C is said to basically be a slightly improved plastic-shelled iPhone 5 that should "sell like hot cakes" as NY Times' David Pogue puts it.
iPhone 5 owners are advised to skip these iterations though, as the improvements may not be enough to justify the expense.
The Reasons Behind the Reactions
There are two main reasons that can explain the high amount of discussion this topic has spurred:
The release of a cheaper iPhone would be a departure from Apple's policy from the past years. Having very carefully cultivated an image of exclusivity, boundary pushing in terms of quality and design, the Cupertino brand has enjoyed a tremendous amount of success by releasing only a limited amount of different models. So, even if Tim Cook has replaced Steve Jobs as the company's CEO, many people doubt that the release of a more budget-friendly smartphone would be this company's next move.
Another element that has pushed many people to talk about this device is that, for many, the iPhone already represents one of the hottest tech items available on the market. For them, it is worth saving up for and spending the extra bucks. So for them, it doesn't really make much sense to fix something that isn't broken.
While both of these statements make a lot of sense from a North American perspective, where the iPhone owns a large portion the smartphone market, it is clear that Apple would be interested in having a bigger impact in other markets where such devices are not the norm and where Android is dominating.
China's Appeal
A great example of a country that fits the aforementioned description is China. As an emerging tech-hungry nation where China Mobile, the world's largest carrier with over 700 million subscribers can be found, it is clear that this could be a fertile market for Apple and its mobile devices if this enterprise was to make them more accessible. As proof of this, Apple's Chief Executive Tim Cook has on multiple occasions named The Middle Kingdom as a crucial market that is expected to play a key role in Apple's future growth.
Combine that with the fact that competitors like Samsung and Lenovo have recently had more success in China and the reasons behind the necessity for Apple to release a more affordable iPhone model become clearer.

The Bottom Line
Moving forward with the release of a more affordable iPhone would definitely be a double-edged sword for the Cupertino giant, especially in markets where this enterprise is already well established, but one has to trust that Apple have done their homework. Plus, in the extremely fast moving and competitive tech world, some (especially investors) consider that if an enterprise isn't growing, it is losing.
How about you? Would you be interesting in a more affordable iPhone?