Buying a new gaming console is always a daunting one considering the wide array of choice we're up against. Find out here if the newly released Wii U is right for you since at $300 and over, it has turned into an investment, rather than a simple entertainment purchase.
Basic or Deluxe Edition?
The $299.99 Basic Edition features the following:
8 GB internal memory for storage
Wii U Console in White
Wii U GamePad in White
Wii U AC Adapter
Wii U GamePad AC Adapter
High Speed HDMI Cable
Sensor Bar
The $349.99 Deluxe Edition has all of the same features as the Basic one but with a few key differences:
Only available in black
Nintendo Land game
Gamepad and console stands
As such, if you have the extra $50 to spend, I would most certainly recommend the Deluxe version since it features 4x as much hard drive space and you get a game with it.
Is the Gamepad A Must-Have Feature?
Let's examine its use for:
playing a game;
sports;
other uses.
Determining this depends entirely on everyone's situation. It had long been thought that thought the Wii (the predecessor to the Wii U) isn't the best for hardcore gamers, it is on the other hand perfect for families or those entertaining guests over the week-end because of its huge selection of family-friendly games.
However, it is possible that Nintendo's creation of the Gamepad is meant to convince the hardcore gamers to switch camps. Weighing in at about a pound (which while it might sound heavy, it's actually very lightweight) and boasting a 6.2 inch touchscreen, the Gamepad is the ideal companion to any game.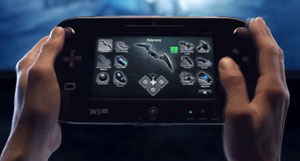 Imagine yourself playing Batman: Arkham City, an action-adventure video game that won Game of the Year in 2011. While you play, the gamepad allows you to view a map of your whereabouts without halting your gameplay. You can even scan for evidence or enemies from your location inside any room.
Keep in mind that originally, the Wii U was supposed to be released alongside the TVii in order to also facilitate tv-watching. Thus, TVii's release next month will enable users to use their gamepads to interact via social media, as well as to say, check scores for various sports online.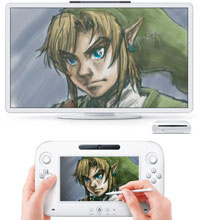 As demonstrated on the left, the Wii U's gamepad can also be used to draw. While most may scoff at this feature, it can actually be used when chatting with friends through the Wii U's network (just like the Playstation 3 or the Xbox).

Where To Buy
Where you purchase the Wii U makes absolutely no difference as it is the same price at all of the big name stores (Future Shop, Best Buy, The Source, and so on)–at the time of checking. The only key difference to watch out for is shipping and with our promotional code page, you will definitely find a code for it!
Should You Get It?
Most importantly, for those of you that already have a Wii and are contemplating upgrading, a cool feature of the Wii U is that its backwards compatible – meaning that all of those games and accessories (steering wheel, nunchucks, and remotes) will work on the new console!
Also, while the Wii has been very family-oriented, the Wii U seems to be more geared towards all kinds of players, especially with its initial release of games such as 007 Legends, Assassins's Creed, Call of Duty: Black Ops, and even Mass Effect 3.
Ultimately, I recommend getting in but only if it's within your budget. Otherwise, try to get it as a present for Christmas!