Even though the now deceased Apple co-founder, Steve Jobs, rejected the idea of creating a mini tablet just a few years ago. It seems like the Cupertino, California, giant is set to release a smaller version of its notorious iPad.
Potential Specs and Price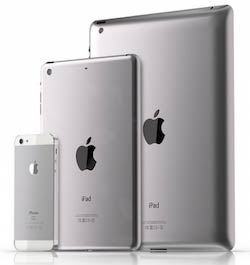 According to Bloomberg and Reuters, Apple will unveil the device, which should be a direct rival for the Amazon Kindle Fire and Google Nexus 7, on October 23rd. There is much speculation–as always with this company–about this tablet's specs and eventual retail price. So far, what has surfaced is that it will be half the size of a regular iPad (with a 7.85-inch display), will either have a 8, 16, 32 or 64GB capacity and that it will be available for $249 to $299.
The Right Tablet for You?
Essentially, we're looking at a tablet that will be a bit bigger and expensive than the competition's, but that is set to answer a need or, in other words, fill a hole in Apple's line-up of mobile devices between the iPhone and the iPad. It shouldn't revolutionize the electronics device world like the two aforementioned products, but loyal fans should be happy with this addition, making this product pretty popular.
What do you think? Will there be an iPad Mini? If there is one, would you be interested in getting it?