Apple have finally announced the release of the iPad Mini during a presentation in San Francisco. Straight off the bat it seemed clear that CEO, Tim Cook, wanted to put emphasis on the technical superiority of this new device compared to other similar sized tablets like the Google Nexus 7 and the Amazon Kindle Fire. He also insisted that this product aims at being a concentration of the regular size iPad and not just a reduction of it.
Will the iPad Mini enable Apple to rule the medium-size tablet world? Only time will tell. But, let's have a closer look into this tablets specs and features in order to get a better idea of its potential popularity.
iPad Mini Specs and Features
The iPad Mini is said to pack a lot of punch considering its relatively small size and weight. With its 7.9-inch screen (1024 x 768 resolution display), 7.2 mm thickness and 0.68 pounds,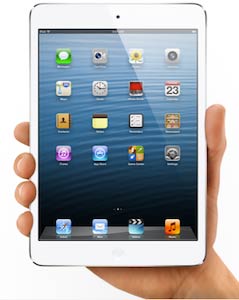 it is supposed to be small enough to be comfortably held in a average size adult's hand and surprisingly light.
Technical features are also said to put the iPad Mini in a advantageous position compared to its future competition. With a Dual-Core A5 processor, the choice between 16GB, 32GB or 64GB memory, a 10 hour battery life as well as the 5-megapixel rear facing camera (1080p HD video) and 1.2 megapixel front-facing camera (720 HD video), all these specs and features help it stand out, on paper at least.
Third-party testing will eventually establish if this device really delivers, but considering this brand's history of success, assuming that it will is a pretty safe bet. Check out this article from CNET that compares the iPad Mini, Google Nexus 7 and Kindle Fire HD.
Final Thoughts
My only concern with this tablet, and the main thing that will stop Apple from crushing the competition, is its starting price. At $329, it won't necessarily priced to appeal to people on the market for a cheap tablet. Either Apple didn't want to engage in a price war with other makers–which I very much doubt–or they are simply so confident in their product that they think people will be willing to pay the extra money for this mobile device. After all, it has a very sleek design and gives owners access to to over 275 000 apps. Anyway you see it, the iPad Mini is expected by many analysts to be a hit, with an estimated 8 to 10 million sold before the end of the year. For those interested, you can either pre-order it at the online Apple store or purchase it in-store in November 2nd. For future discounts for this apple product (and others) we will list them here.
I have to admit that I am tempted to get one. How about you?