If you think that using a promo code is only reserved to extreme couponers and unemployed people. You couldn't be more wrong. Although, considering that according to Statistics Canada only about half of Canadian Internet users complete orders online. This pretty much leaves out the working stiffs of this world… Wait. Does it really? I don't think so either, as saving money when possible is just smart no matter your financial status.
Anyway, it's clear that there is still a lot of room to grow and that loads of people will be looking for some shopping tips. And since shopping tips and discounts go hand-in-hand, at least to me, a lot of people will want to learn more about promo codes and coupons. So, here's your short introductory how-to guide on how to use codes and where to find them.
What is a Promo Code?
A promo code, short for promotional code or promotion code, is issued by merchants to enable its customers to get discounts towards the purchase of all or certain items available at its online store. This type of offer usually lasts for a limited period of time and will save users a variable amount of money, either a percentage of the total amount of the order a flat rebate ($10 off all orders of $25 or more for example).
These discounts can be named all sorts of ways, if it isn't promo code or coupon code, it could also be named discount code and in some cases ecoupon code, redemption code or even voucher code. This usually depends on what country the merchant is from and on the market its promotions are geared towards, but no matter how they decide to call it, its function is always the same: get you a discount.
Where do I Apply the Promo Code?
Usually merchants will offer the possibility to add a promo code as soon as you've selected an item and have decided to add it to your "shopping bag".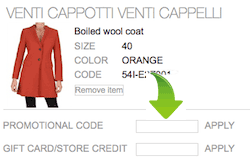 This section can also be found at "checkout". This doesn't make much of a difference, but make sure to spot this section and to add your code during one of these two steps, as it is really rarely situated past these. Sometimes it's later, but it's never past the billing and shipping section.
So, if you've missed it when you added it to your shopping bag, as you checked out or filled your billing and shipping information, try going back a step and pay closer attention. If you have a code in hand, there's a strong chance that they have a section to add it. This assuming that you have a code. If you don't, I suggest that you have a look at the following section of this article
Where do I Get Promo Codes?
This is where the fun begins. If you don't actually have a code and you have come across an empty box prompting you to add one, you can either visit PromotionalCode.ca's Popular Stores section or the Saving Made Easy blog to see if there is a deal available for the product or merchant of your choice. If there aren't any valid ones, you can also try signing up to the online store's newsletter or contacting us to inquire about the availability of codes.
Depending on the store's politic regarding the issuance of deals or the type of product there is a strong that there will be a coupon made available soon enough. This is why I suggest, that if you're not in a hurry, you make sure to research until you find a deal that satisfies you. There's no point in paying full price if there's a possibility to find a deal.
The Bottom Line
A lot of websites and bargain hunting communities are trying to sell you a lifestyle where using coupons has to be "extreme" and should take a lot of time in your week. To me, it isn't anything that intense and it shouldn't be too complicated. Let us take care of the complicated part and If there's a deal to be made it just makes sense to claim it. Right? Plus, with all sorts of interesting opportunities available why don't you make the most out of it?
In conclusion, please let me know if you have any questions or feel that there are certain omissions in this piece by leaving a comment in the below section. I'd be more than happy to answer these or to apply the needed corrections.