A little planning goes a long way when you're trying to save money on your next great Halloween costume. The last thing you want to do is be stuck on that final day, rushing to some store for the last over-priced outfit. If you decide on a costume ahead of time, you'll be able to look around for the cheapest options.
Here we'll look at some of the best ways to save money while putting a great costume together, from DIY to thrift stores and other helpful tips.
No One Does It Like You!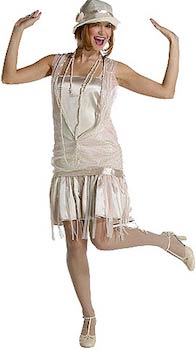 For those of you who prefer to do it yourself, this is clearly the best way to save money on a Halloween costume. Take a good look at the things you already have on hand – there are probably a few unique and versatile items collecting dust in your closet. Try to start with an open mind when employing this method, as you can often build an entire costume around one strange oddity. If your closet doesn't provide that creative spark, check out Halloween Instructables for more great do-it-yourself Halloween costume ideas.
And don't forget about decorations – there are lots of great DIY tricks you can use to turn your home into a spooky haunted house. Start with the paintings, photographs and posters hanging on your walls. With a little construction paper, scissors and tape you can add all sorts of spooky Halloween flavoured decorations.
Be Thrifty
You should definitely check out thrift or vintage stores as well. These often have full costumes available at a fraction of retail prices. Even if they're all sold out of costumes, you should find a full range of funky, inspiring ideas to play with.
Thrift stores can be particularly useful if you're looking to re-create a 'period' costume such as a golden age 1920s flapper. These stores often have unique items that would be difficult to find elsewhere – things like gaudy jewellery, funky hats, and other garments that are colourfully out of style. These can provide the perfect final touch to your costume for just a few dollars.
The Kid Zone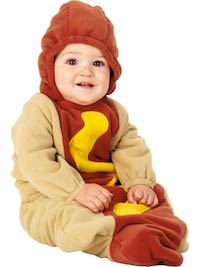 Those who have kids know that Halloween can take a big bite out of your wallet. Fortunately, there are many ways to save money here as well. First, ask around – friends and neighbours may have used costumes that their children have already grown out of. You can also apply the plan-ahead strategy when it's time to shop for new clothes. Does your 8-year-old need a new rain jacket? Think about buying something that might also function as part of a creative costume.
With kids, you should try and have a couple of options planned out ahead of time. Asking your child to choose between two or three ideas that you already have in mind can cost less than asking: "What would you like to be for Halloween?".
One Last Tip
Finally, the ultimate in planning ahead: check those overpriced costume shops the day after Halloween. They often slash prices to get rid of existing inventory, so you might just find next year's costume at a steep discount.

How about you? Do you have any money saving tips for Halloween costumes?