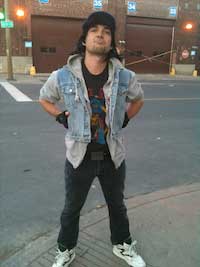 Hey everyone, I just wanted to write this short post in order to wish to all of you a fun Halloween. I know, there probably isn't a "Holiday" out there that is more commercial than Halloween, but I simply can't get enough of it. The concept of finding a funny costume simply amuses me and brings me back to when I was a child, which is an amazing feeling. For a grown man to just be able to take a break from the daily routine and simply have fun is awesome.
For example, yesterday night I showed up at my girlfriend's parents place all dressed up as an 80's rocker, the look was complete from the extra tight jeans to the rockin' mullet. The funniest part about this was the fact that I was the only one wearing a costume. I know this may sound weird, but everybody had fun and suggested that next year we should all get dressed up.
How about you? How are you dressing up this year? Anything crazy?