For some, July 1st is synonymous with the opening of the free agent market frenzy in the NHL, but for most it is a day dedicated to celebrating their pride of being Canadian. All sorts of parties are thrown all over the country and a bunch of stores are jumping in to enjoy the fun by offering all sorts of interesting deals. Online stores are no exception, being especially active around this date.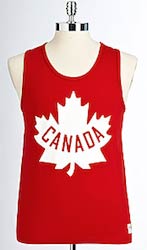 Expect to find all sorts of limited time offers on and around July 1st on all sorts of merchandise, like summer clothes & accessories, electronics, furniture, home decor, home improvement items, and more. If interested in all things Canada Day, check out The Bay's selection. Most of the stuff looks pretty cool in my opinion and is decently priced (I'm getting the sunglasses for only $10).
Anyway, let's not forget the original purpose of this post: Happy Canada Day!