Shopping for a significant other or family can be hard enough but what about friends and coworkers? The following list of 2013 gift ideas on a budget has been compiled to include a variety of Canadian items, from clothes, jewelry, electronics and even food. Browse through it for some inspiration and let us know below which gift idea you will be getting.

And be sure to check out our list of the best 2013 Christmas Sales and Deals in Canada for books, clothing, jewellery and many more.
Skip to section: Gift Ideas Under $20 | Gift Ideas Under $30 | Gift Ideas Under $50 | Gift Ideas Under $100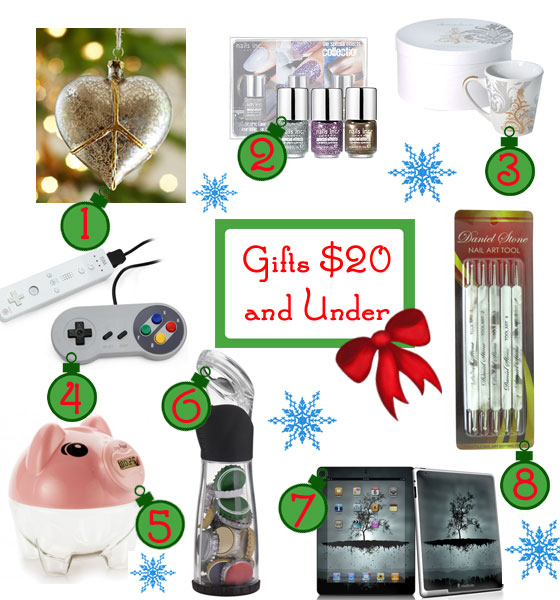 1. PotteryBarn's Peace Heart Glass Ornament for $8.51.
2. Sephora's The Special Effects Collection for $16.50.
3. Clair de Lume's Set of 4 Mugs in Gold & Silver for $9.98.
4. ThingGeek's Classic Nintendo Remote for $19.99.
5. Stokes' Digital Piggy Bank for $15.99.
6. Linen Chest's Beer Cap Catcher for $9.95.
7. DecalGirl's Flying Tree Skin for Apple's Ipad at $19.99.
8. NailPolishCanada's 5 Piece Nail Dotters for $9.95.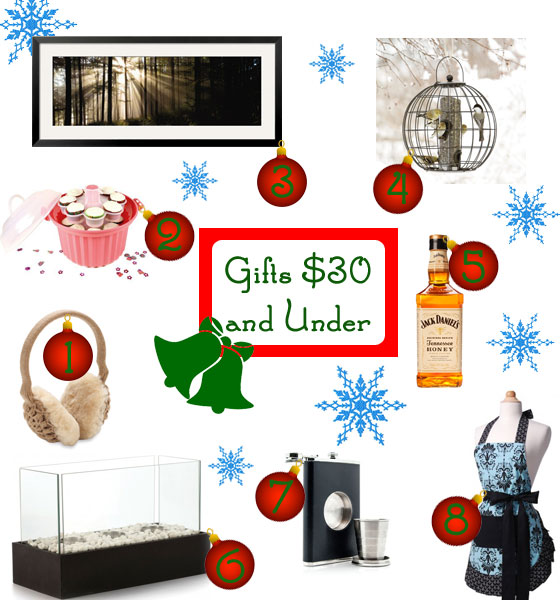 1. Bed Bath & Beyond's Lamo Ear Muffs for $24.99.
2. Cooking.com's Pink Giant Cupcake Carrier for $24.96.
3. AllPosters.ca's Sunlight Streaming Through the Forest Poster for $24.99.
4. Veseys' Globe Bird Feeder for $29.95.
5. A lovely bottle of Jack Daniel's Tennessee Honey liquor from the local alcohol store for $29.88.
6. Stokes' Indoor/Outdoor Fireplace for $29.99.
7. Shotflask's Flask with a Collapsible Shot Glass for $25.
8. Flirty Apron's Aqua Damask Apron for $29.95.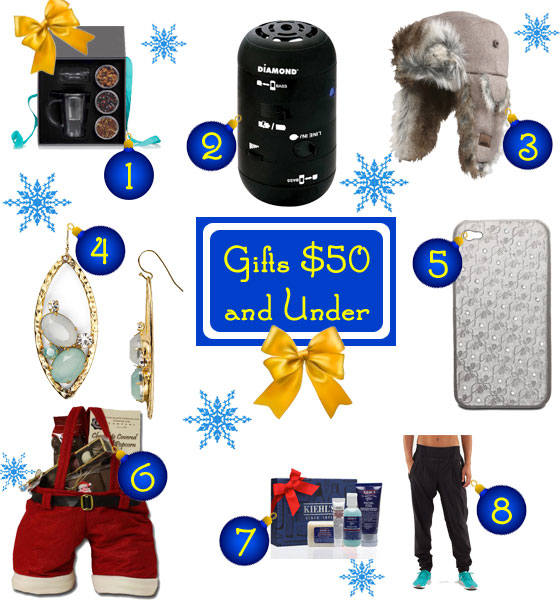 1. David's Tea's The Perfect Gift for $39.50.
2. Best Buy's Diamond Mini Speakers for $46.99.
3. Sports Experts' Winter Aviator Style Hat for $32.99.
4. Bloomingdale's Oval Stone Drop Earrings for $43.49.
5. Swarovski's iPhone 4/4S Case for $50.
6. Chocolate.com's Santa Pants Filled with Chocolate for $34.50.
7. Khiel's Essential Body and Face Washes for $40.
8. Lululemon's Rover Pants for $49.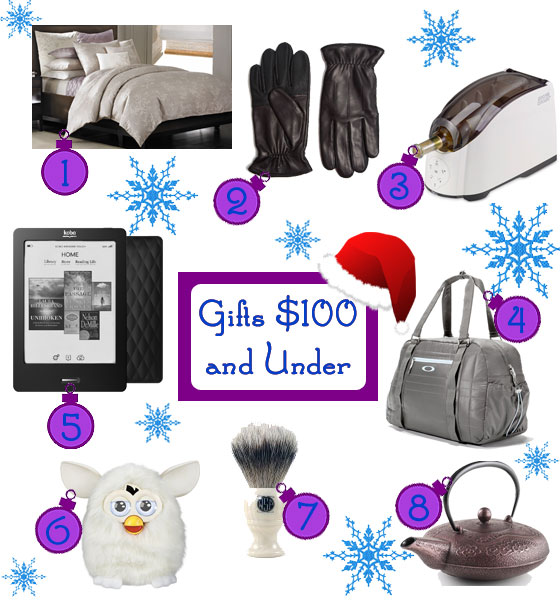 1. Bed Bath & Beyond's Queen-Sized Night Blossom Duvet for $69.99.
2. Roots' Leather Gloves For TouchScreens at $98.
3. Bed Bath & Beyond's Rapid Beverage Cooler for $79.99.
4. Oakley's Solution Tote for Vacation Week-Ends at $90.
5. Chapters Indigo's Kobo Touch for $99.99.
6. Toys R Us' White Furby for $54.
7. Wet Shaving Products' "The Monarch" Shaving Brush, made of Badger Hair, for $74.99.
8. Teaavana's Imperial Dragon Cast Iron Tea Post in Copper for $99.95.
Since these lists are a ton of fun to compile, we'd love to hear from you about 2013 holiday gift ideas. Comment below and we will add your ideas to a new list!