This isn't a freebie in the traditional sense. You'll have to make a purhcase or 2. But it's a good one. I participated myself in the last Vector cereal promotion (I managed to snag two high quality sports t-shirts made by New Balance) and best of all, I was going to buy the cereal anyway, which is exactly what I'm suggesting here. If you or your significant other enjoy the awesome tasting Vector cereals then look out for the specially marked boxes.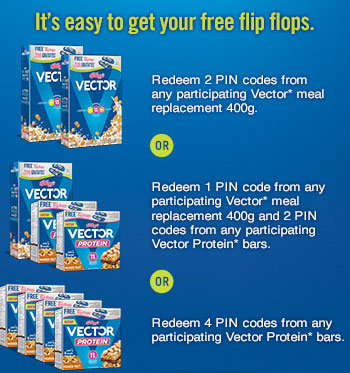 I'm using this image straight from their offer page, as it sums up the offer nicely. Simply look out for the specially marked Vector boxes. Cut out 2 of the PIN codes (they are in the inside of the box, and hard to miss. Or they give you the option to mix and match with their protein bars (haven't tried these yet). Once you have these then head over to the form linked below and fill it out online (great, no need for paper).
Enter your Kelloggs Vector PIN codes and get your free Flip Flops here
My t-shirts used the exact same process and while they said it would take 6+ weeks to arrive, it was more like 4 which was a bonus.
This offer expires on the 30th September 2014. Customers have a few sizes to choose from. I don't have much of a problem with branded merchanide, but these are really blatant. Lucky for us is that sandals have feet in them, so no one will see the logo's unless you take them off, and after perhaps 3 weeks the images will most likely be completely rubbed off due to wear.