All too often, full-figured women limit their wardrobes to loose outfits in dark, drab colours. This is unfortunate, as any woman can find a look that flatters her shape in bold colors all the while featuring the latest fashion trends.
With the holiday season underway and Christmas less than a week away, it's the ideal time to go shopping for a party invite that has either already come or that is on its way. Below you will find a list of 6 tips to help you shop for the perfect holiday party look. Once you're ready to shop, pick which store you wish to shop from our Clothes and Accessories store list and use one of our coupon codes for some stunning savings. There are several plus size stores included in this list, such as Pennington, Addition Elle as well as many others.
Play Up Those Curves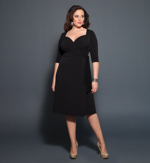 The wrap dress is a classic, hands-down winner for full-figured women. The cinching at the waist provides a slimming effect by giving your body an hourglass shape.
Since it ties at the waist as well, this wrap dress is ideal for style and comfort as it can be tied to any tightness or liking. This is an important part because to look good, you also need to feel good!
Don't Be Afraid To Shine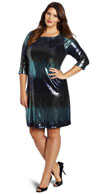 Why hide behind drab colors when a holiday party is the perfect time to brighten up your look? Instead of shying away from shiny fabrics, highlight your curves with a sequined dress that can carry elegance, all the while providing that extra fun sparkle.
Check out this inspiring example of a sequined dress, perfect to the New Year. Pair it with some dark tights and patent pumps for an awesome holiday look.
Hide the Midsection with a Flowy Blouse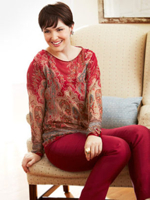 Within reason, a little bit of extra flowy fabric can help hide a generous midsection. However, be sure to keep the pattern simple as too much will actually defeat the purpose by adding extra visual weight (definitely not something anyone wants!). Choosing thing patterns, such as the paisley chiffon one featured on the left is perfect with skinny pants that will complete the look and help you feeling flawless all evening.
Divert Attention to Your Curves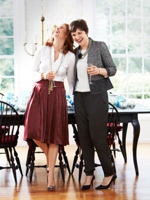 Dressing for the most common body type, the pear-shaped, doesn't need to be hard as long as you follow a few guidelines. In fact, an hourglass shape can be created by wearing wide-leg pants or an A-line skirt.
A drop-waist skirt, such as the one in iridescent merlot on the left, can also have the same effect. By diverting the attention to your curves, you're sure to get quite a few adoring glances!
Great Look For A Fuller Bust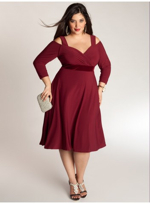 Particularly flattering for a woman with a fuller bust, this dress provides the look of an off the shoulder dress while still letting you use your favorite bra.
The flowiness of the skirt is idea for twirling around in on the dance floor all party long, making this dress a true winner from head to toe!
Give Your Skirt Some Flash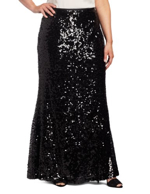 Featuring a satin trim at the waistline, this long and dramatic sequin skirt will definitely wow at the next cocktail party. By accentuating your curves, it's flattering to many body types since with just the right amount of holiday elegance.
A Few Quick Tips for Big Men
The first tip that comes to mind is to wear clothes that fit your size. This means, and this is true for most people, stay away from baggy clothes.

Some men think that by going for oversized styles, their gut won't be as visible, but this isn't true. It is way better to go for well adjusted garments.
Also, in recent years, skinny clothes have made a huge comeback. This trend isn't for everyone either. Extra tight jeans or blazers will do more harm than good.
In terms of colours, the following rule applies: "lighter shades attract attention and darker shades detract".
Another popular trend in recent years has been to wear a variety of patterns simultaneously. Although this can be pulled off, it's recommended to stick to one main pattern at a time, especially if you're a big guy. Plus, try to go for vertical stripes instead of horizontal.
Here's another quick one, if you decide to wear a suit, keep the top button of the jacket on while standing up. Plus, avoid long suit jackets and any excess fabric.

What will you be wearing to your holiday party?