During the Skytrax world airline awards Air Canada was named the 'Best International Airline in North America'. A noteworthy accolade since rankings were determined by over 18 million passengers worldwide completing their survey, and that it's the 3rd year in a row that Air Canada wins this award.
Do you agree with this award?
I'm simply asking you this question because everybody seems to have an opinion on which airline is the best and I have quite often heard complaints about Air Canada's services. Whether it's because of missed flight connections or less than perfect customer service, I'm wondering if these rumours are legitimate or if they're just urban legends?
Air Canada vs. 'The Competition'
When I read that along with this award, Air Canada was also voted the 'Best Airline in North America' by Global Traveler Magazine, the 'Best North American Airline for International Travel' by the readers of Business Traveler as well as 'Canada's Favourite Airline for Business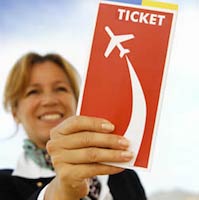 Travel' in the annual Ipsos Reid Business Traveller Survey, I was left thinking that Air Canada really can't be all that bad, having won more awards than Roger Federer.
That being said, does this mean that it is worth paying the extra money for an Air Canada flight? To me this question is worth asking considering that Canadians have loads of other more frugal options thanks to the abundance of discount airlines, which offer lower fares in exchange for eliminating many passenger services.
The low-down
In the end, I guess the way you judge Air Canada and its rates all depends on what type of traveller you are. If you're just an occasional flyer, like me, you will probably have more tolerance compared to someone who needs to fly several times a month. Personally, all I want is to get there safe. So my main objective while shopping for a flight is to get my ticket for the cheapest.
But I also think that the more often you fly, the more attentive to detail you become. If I take my girlfriend's dad for example, who flies at least twice a month, I'm always amazed with how picky he is. To him airports are nothing exotic anymore; they're simply a means to an end. And considering the type of awards Air Canada has won, it seems pretty clear that this airline has made the choice to put emphasis on offering quality service to frequent flying business travellers — They are the most lucrative after all.
Consequently, I don't think Air Canada should be your go-to airline as a bargain hunter, but if you get the chance to fly with them for a decent price, be it thanks to a promo code or a sale, then you might just have to jump on the offer. There are bad stories about every single airline out there, my guess is that there are more about Air Canada because it is the biggest one in the country.
How about you? What do you think about Air Canada? Would you recommend flying with them?