All right, with all the people going nuts about the release of the new iPhone 5, (It is supposed to happen later today btw) all sorts of crazy rumours have been surfacing on the web. To underline our excitement we have decided to jump on the bandwagon, with a list of the top 5 craziest iPhone 5 rumours. A lot of mystery surrounds this release as nothing has been given away as far as features, improvements or even when it will arrive on the Canadian market.
Also, Steve Jobs' departure has left Tim Cook in command. It is clear that Mr. Jobs has left his successor humongous shoes to fill, pushing some people to wonder if Apple will ever be the same. Plus, Apple has been on such an incredible run that it is hard to believe that they will be able to release another ground-breaking smartphone. Truth be told, the iPhone 4 wasn't as much of a revolution as the iPhone 3. Either they, took a break in order to stack the iPhone 5 with loads of cool new features or they are simply losing momentum. Personally, I'd rather go with the section option and this is why I've searched the web for the iPhone 5's coolest features. Have a look below for a wicked top 5.
1- Wireless Charging : OK, this one isn't that far fetched, as using inductive wireless charging technology could allow iPhone users to juice up their smartphone's battery without using any cable. I'm sure this would be a big hit.
2- Fire-Proof iPhone : Again, this seems quite realistic (thanks to the standards Apple has already set). Apparently, the iPhone 5 could very well be fire-proof. At least, if we consider the fact that Apple has a new patent for a halogen-free flame retardant. If we extrapolate a little, this could be used for the iPhone 5. Pretty sweet.
3- See-Through : This is where this stuff gets exciting. Browsing the web, a iPhone 5 concepts leads us to believe that this phone will be completely see-through. At least, when looking from the back of the phone people will be able to see through it. I admit this made be a little suspicious, but it would definitely be cool.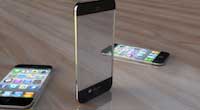 4- Laser Keyboard : Again, there is definitely something about this if you ask me. But another concept stipulates that the iPhone 5 would be equipped with a laser keyboard, making it at least 4 times bigger than the standard one.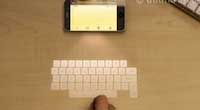 5- Holographic Display : This is completely nuts. Another concept which would definitely rock is the holographic display feature. This would enable iPhone 5 owners to watch video or clips using an built-in holographic projector.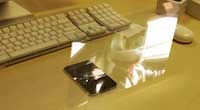 Check out this short clip if you're interested in watching the short video where I found some of the craziest ideas : iPhone 5 Concept Features.