Here's another great freebie available to Canadians. This time around the special offer is offered by Woolite, the laundry detergent company. It's good for a free 60ml sample of the Extra Dark Care detergent, which is meant to maintain the intensity of dark clothes.
Claim your Woolite Free Sample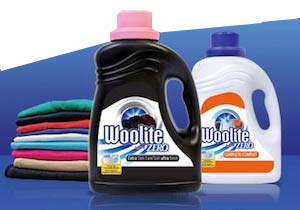 All you have to do in order to claim one of the 200,000 Woolite sachets is to use the link provided above, which will take you to this deal's page, where you will need to fill a short form with your name and address. Expect 4 to 6 weeks for your sample to arrive.
One of the simple tricks that I use in order to keep the colour of my clothes more vivid is to dry them using a drying rack. I find that it isn't as harsh on fabrics as a traditional dryer can be. Plus, it represents a pretty frugal option as the rack is pretty cheap (+/- $20) and doesn't cost anything to run.
Potentially, using the Woolite Extra Dark Care detergent on top of a drying rack could represent the ultimate solution for keeping dark colours dark? You never know. How about you? What do you do to keep your clothes nicer for longer?
Special Offer Restrictions: "Up to 200,000 Woolite® sample sachets will be issued and distributed for free on a first come, first serve basis to qualifying Canadian citizens. This sample offer is for one Woolite® Extra Dark 60ml detergent, which will be mailed to your home within 4-6 weeks of registration. To be eligible for the free sample kit, you must be: (i) a Canadian citizen with a lawful permanent residence in Canada, and (ii) be eighteen (18) years of age or older at the time of registration. Parental consent will be required for those consumers who are under the age of majority in the province they reside. Limit of one (1) sample per person per household. Only one e-mail address per person may be used. If you attempt to register more than once, all subsequent entries will be void."

Choose among a selection of awesome freebies

Sign up to our Famous FREE Weekly Top 20 Promotional Codes Newsletter