Vitamints almost sound too good to be true. Not only are they meant to help you make sure that you never run low on minerals and essential vitamins, but they also supposedly taste great and leave your breath smelling minty fresh. How cool is that? (if it works that is)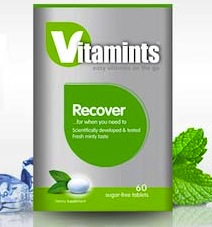 I guess vitamins that help you obtain the micro-nutrients your body needs on a daily basis aren't enough anymore. You need a uber-vitamin nowadays and Vitamints is meant to be the incarnation of this special vitamin.
All you need to in order to claim this freebie is to use the link located below, which will take you to the special offer's landing page. There, all you will need to do is to click on the "free sample" button, fill a short form with your name and address and you should receive your sample within a couple of weeks.
Claim your Vitamints free sample here
I personally don't ordinarily take any vitamins, except maybe when I get a serious cold. I find that it helps me get back on my feet faster. But this promotion got me curious, so I'll do a little more research. I have heard that taking vitamins isn't always as amazing as people think. There are schools of thought that say that the body cannot absorb the minerals in this format or another popular one is that perhaps your body does not need a dose of all the vitamins (i.e. you might actually be overdoing it in some cases).
Contrary, while doing my research I found this interesting article on the subject, which among other things, highlights the fact that researchers have found that important vitamins like D and E as well as minerals are protective against disease. But in order to be effective you need to consume them in amounts that may be hard to reach with your daily diet alone, no matter how dedicated you are to it.
Potentially this is old news for a lot of you, but I always thought that I could get away with just eating properly and exercising. Apparently, this will only protect you to a certain extent. Anyway, I might give these Vitamints a shot. How about you? What's your take on taking vitamins? Do you have a favourite brand? (As always, I'm full of questions)
Special Offer Restrictions: "Available in Canada only. 1 sample per household"

Find other fun products and samples for free

Sign up to our Famous FREE Weekly Top 20 Promotional Codes Newsletter