Have you ever dreamt of having an all-in-one detergent, stain remover and fabric brightener? Well, the days when you had to use three different products are over and it's all thanks to Tide. The best part about it, is that for a limited time, you will be able to get a free frial sample of this multi-tasking product entirely for free.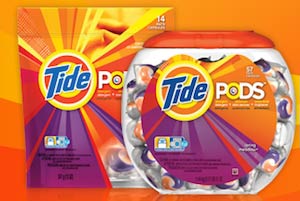 In order to get one of the 150,000 samples available in Canada, simply head to the official Tide Facebook page, 'Like' the page and click on the REQUEST A FREE SAMPLE button. Once this is done, you will be asked to fill out a short form with your name and address.
Please note that there is a limit of one sample per household, that this freebie is only available to Canadians that are 19 years old or over and that you should expect your sample to arrive 6 to 8 weeks after you've ordered it. I know this may sound like a long time, but this is a conservative estimation and Procter & Gamble samples tend to arrive quite rapidly (about 2 weeks).
Have you tried this product yet? What did you think about it?