Black Creek Pioneer village are running a great promotion for kids for this 2012 summer only (you never know they may extend it next year). They are offering free admission for kids under 15 y/o on weekdays (Mon-Fri).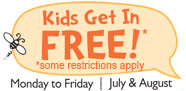 Black Creek Pioneer village is in Toronto. This promotion is valid for up to 4 children with at least 1 paying adult.
I want to go! I checked out their website and saw the photos and read the reviews and descriptions. Basically the village is a themed town–from the 1800's–where kids can learn and have fun. You get a chance to go back to this period and get to experience how people lived then. You can walk around the buildings, pick things up and talk to people dressed in costumes playing the part. While the promo cannot be used in combination with other offers you can still see if this coupon for a free kids menu item is still valid (it's a PDF with the free item valued up to $6.45). When I last checked the expiry date it said September 1st 2012, but they may update the coupon, you never know.
Read all about this promotion from Black Creek Pioneer Village here
T&C's: "Promotion excludes Camps, Daycares, and Organized Groups. Not valid with any other coupons or promotions."