Have you been looking for the cheapest solution to file your taxes this year (Deadline April 30th, 2013)? Maybe you have been pondering over trying a little DIY and doing it yourself, which is probably one of the savviest options out there. How about taking this thought to the next level? Turbotax Canada have two options to make tax filing not only cheaper, but entirely free with the TurboTax Free Online Edition as well as the TurboTax Student Online Edition.
Click here to Visit TurboTax.ca and Start Filing Your Taxes for Free
Of course, there are some restrictions related with each software, or else one of Canada's most popular tax software companies would go out of business. Keep reading to find out about these.
TurboTax Free Online Edition Restrictions: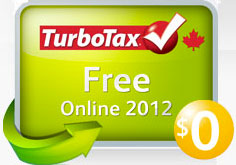 To be eligible, clients cannot require much tax guidance;
There used to be a $60,000 limit to be eligible, but it is now unlimited;
Must only have T4 income slips to file;
May not have earnings from investment income or RRSPs;
Can not be self employed.
TurboTax Student Online Edition Restrictions and Deductions: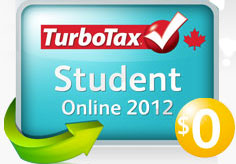 To be eligible clients need to have paid tuition in and to have had an household income of $20,000 or less in 2012.
This edition will help claim maximum deductions, such as:
Up to $400 a month in tuition;
Up to $65 a month in textbooks;
Public transit passes;
Moving costs if a student has moved 40 km or more.
If you have gone through all the restrictions only to find out that you won't be able to get any of these products for free, don't worry we have the next best thing for you: a 10% off rebate on every TurboTax Canada software. Simply check out our store page dedicated to TurboTax to claim this special offer and to learn a bit more about this merchant.