Here's a fun freebie that could help bring some life to your routine. Tre Stelle, the cheese maker, is giving away free subscriptions to its Melt Magazine. Delivered for free to your inbox every month, Melt is filled with all sorts of recipes. Of course, these pretty much all have cheese in them, but should they should still give you some decent inspiration for recipe ideas.
Click here to get your free subscription to Melt
To complete your subscription just click on the link located above, which will take you to this freebie's page. Once you're there, you will simply need to fill the short form and click on the 'Register' button located at the bottom of the page.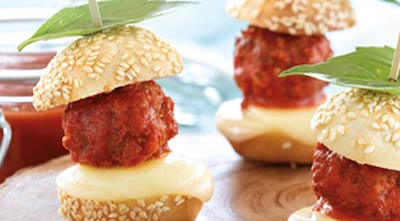 It sometimes get tough to find inspiration for recipes. Personally, I often go back to my classics and cook them up without thinking about it too much. But my girlfriend always comes up with new recipes. I actually often wonder where she gets them all. Maybe she secretly subscribes to all sorts of magazines like Melt. Anyway, I've just registered to it, this way I'll also be able to throw something new into our weekly routine every now and then. I think I'll try those little provolone sliders soon. I'm sure that will impress her.
How about you? Are you interested by this freebie? Do you have any recommendations about where people could find some free recipe ideas?