The Lego Club is giving away 2-year subscriptions for its Magazines. The edition your kid gets will depend on his or her age. Kids under 7 years old, will receive a subscription to the Lego Club Jr. magazine, otherwise the subscription will be for the standard edition. Just use the link available below to be taken to this freebie's landing page. Once you're there, simply select your country of residence, age range and fill a short form.
Claim your Free Lego Club Magazine Subscription here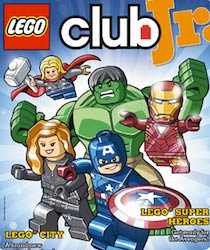 As you've probably guessed, the Lego Magazine is all about Lego toys. Whether it's a section dedicated to the newest figurines, a short quiz, a comic or a crossword puzzle, everything has been made with Lego figurines in mind. Sure, this makes for a great promotional tool for this toy brand, but it's also a great way for your kids to learn while playing games. In the end, your kids will be exposed to all sorts of publicity, whether you like it or not, may as well be for something that isn't violent.
If you spend a little bit of time on the Lego Club website, you will soon realize that, to some people (mostly kids but some adults too) Lego toys are much more than just a mini figurine, it's a complete universe. There, kids will be able to watch webcomics, read interviews with Lego master builders, watch videos and to learn about the most recent collections. If your kid is really into Lego toys, it could be a great website for him or her to checkout. It could even be a pretty frugal activity if you manage to tame your purchases.

Check out Awesome Freebies for Canadians

Sign up to our Famous FREE Weekly Top 20 Promotional Codes Newsletter