Have you been wondering what book to read next? I'm constantly in 'on to the next one' mode, always looking for something new to read, even when I already have a few other titles in line. Well, here's one to add to the ever-growing list: Dawn of War, the first part of the Blood War Trilogy, a dark epic tail of war and fantasy from Tim Marquitz.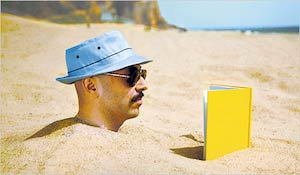 Whether you're looking for a summer read or a book to keep you company during your return to school, you will be able to download a digital copy of this novel entirely for free and to take it with you using pretty much any device of your choice. It doesn't matter if you prefer to use a laptop, a Kindle (Amazon's ereader), an iPad, a Nook, etc. there's a strong chance it is available at Smashwords.com.
If you don't know about Smashwords.com–I personally only found out about this website when stumbled upon this freebie–it's a website that specializes in the distribution of ebooks from indie publishers and authors. Enabling readers to download lesser-known titles that they wouldn't necessarily find elsewhere. In most cases, users need to pay a small fee for the ebook, but in some instances like the present one, some titles are available for free. How cool is that?