Let's face it (bad pun intended), our skin takes a lot of punishment throughout the year. If it isn't the harsh Canadian changes in seasons that get to you, there's a strong chance your daily routine will end up being quite taxing for your facial skin.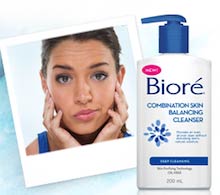 – I bet she has never had a spot in her life
This means that some daily care is required to not only clean your skin but to also protect it.
Biore Canada has decided to help you with this by offering free 7ml samples of its Combination skin balancing cleanser to anyone that decides to Ditch the Dirt on its Facebook page. All you have to do is to type in the short story of a moment where you didn't feel your skin was up to your standards and to fill a short form with your name and address. By doing so, not only will you get this nice freebie but you will also be entered for a chance to win one of the 250 free full-sized bottles of this cleanser up for grabs.
Click here if you're Ready to Ditch the Dirt and get your Biore Canada Free Sample
From personal Experience
I've had my fair share of "battles" with my face as a teenager. Some days I think I would have preferred to walk around school with a bag on my head. But one of the things my mum helped me with, which actually worked very well, was to get me to use a facial cleanser on a daily basis (but being a guy I didn't tell anyone about it). Now, I know not all skin types are the same and not all cleansers are created equal. For example, loads of products out there will get rid of imperfections, but will also simultaneously dry it, so my advice is the good old fashioned trial and error, keep trying different products (opt for the small sizes) until you find one that you feel works on your skin type.
So the key to success here, in my opinion, is to try as many cleansers as you can and to find the right one for you. This is where this type of freebie comes in handy. Try a bunch, and odds are, you'll find one that fits the bill.
Also, if you're looking for some more skin care tips for you or your teenager (if indeed you have a teenager that is), check out this short article which does a great job of covering all the skin care basics.
The Routine….
I know this is going to make me sound like a bit of a princess, but here is my personal facial hygiene routine that I've perfected over the years. It consists of cleaning my face with water and applying some light moisturizer in the morning. Then, before going to bed I use a facial cleanser and once or twice a week I use an exfoliating gel. I know it sounds like a lot of work, but once you get it into you're routine, it just becomes natural and you kind of forget about it. Plus, if keeps me from having the feeling that I should be walking around with a brown bag over my head I'm totally up for it. How about you? What's your routine? Any tips?
Special Offer Restrictions: "No purchase necessary. Open to individual residents of Canada who have reached the age of majority. One 7mL sample sachet per person while supplies last (up to a maximum of 10,000). Limit one (1) 7mL sample per person / email address / household. Please allow 3-6 weeks for delivery."

Find more ridiculously awesome Canadian free stuff

Sign up to our Famous FREE Weekly Top 20 Promotional Codes Newsletter