Here's a short post to let you know that for a limited time you will be able to enjoy a free alignment check at participating Canadian Tire locations.
Click Here to Get an Issue of Canadian Tire Driver
Since coupons can be found inside all copies of the Spring/Summer 2013 Driver magazine, either head to the nearest Canadian Tire to grab a physical copy of this magazine or sign up online to receive it via either mail or email,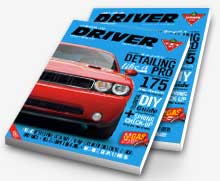 by using the link included on this page.
Please remember though, that this freebie only includes the verification to determine whether your vehicle's alignment is straight (regular price is of $20) and does not include any potential alignment repairs, which could cost around $80.
This type of freebie is usually a strategy to lure in potential customers. So, our advice is to remain firm if they ever try to make you spend more for repairs that you were not planning to get done –unless they are urgent, of course.