For a limited time Skype is offering a 3-month Skype Unlimited World subscription to all BlackBerry 10 users. By claiming this offer, you will be able to place free calls to over 60 countries.
Click Here to Claim your Skype Unlimited Free Trial
To claim this offer, two main things are needed: a BlackBerry Q10 or Z10 and the Skype app.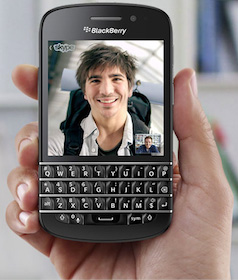 Other than that, you will simply need to sign up using the link available above.
Just make sure to have your smartphone's PIN IMEI numbers on hand for a rapid subscription and you will be on your way to three months of free calls to 60 countries.
Have you been debating whether to get the BlackBerry 10 or the Note? Check out what CNET has to say about the Q10 as it will potentially help you make up your mind.
Are you the proud owner of the new BlackBerry 10? Which one and would you recommend it?