GoCoupons.ca Coupons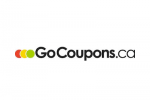 GoCoupons.ca specializes in the distribution of grocery product mail-in coupons. The selection of deals available mainly consists of rebates on food products, health & beauty products as well as household products (but mainly food). GoCoupons.ca is very well designed, making it easy to navigate and pleasant to the eye. If interested in claiming these rebates, use the iframe located below to claim GoCoupons.ca hosted deals.


Quick Links: GoCoupons.ca Review | www.GoCoupons.ca
Active GoCoupons.ca Coupons
GD Star Rating
a WordPress rating system
Have Your Say! Use the voting options on the left to voice your opinion of GoCoupons.ca, please bear in mind a comparison to other similar sites you have experienced but don't be swayed by other peoples votes on GoCoupons.ca Canada when you decide your criteria. You can see the results for the existing GoCoupons.ca Reviews in this dynamic image.
About GoCoupons.ca:
GoCoupons.ca is one of the youngest members of the
online coupon distribution community
, as it was launched in January 2009. Offering a service comparable to other websites like Save.ca, webSaver.ca or SmartSource.ca, meaning that customers can select some discounts for grocery packaged goods in exchange for filling a short form with personal information (name, address, etc.). The main difference being that GoCoupons.ca tends to offer a selection of coupons that is relatively smaller than its counterparts. Potentially this is due to the relatively young age of the website and the availability of coupons will grow with time. This website is still definitely worth checking out for its exclusive deals.
The whole concept behind GoCoupons.ca is to give some extra exposure to some grocery product brands (like Yoplait, Royale, Catelli, Arctic Gardens and more) by making printable coupons easily available to online consumers. This way easily costumers only select the coupons they wish to receive by mail, consequently reducing waste compared to coupon magazines.


Although there is a lot of talk on the web about GoCoupons.ca hidden coupons and portals, these either don't exist or are very rare. Brands like Royale and Yoplait have hosted GoCoupons deals on their respective website, hosting a "portal" if you will, but these deals are usually available on GoCoupons.ca's coupon section regardless, meaning that these aren't "hidden" in any way.


The steps to claim coupons are the following:
1- Select the coupons you want to redeem by clicking the "Add to my Cart" box. You will need to select at least 3 at a time;
2- Once this is done, click on the "Get your Coupons" button located at the bottom of the GoCoupons.ca page;
3- This will take you to the Your Order page, simply double-check if all the coupons you wish to claim are in your cart and click on the "Place your order" button located at the bottom of the page;
4- You will need to fill a short form to ensure that you actually receive your coupons;
5- Click the green "Send your order" button in order to send your request.
GoCoupons.ca Coupons

,